---
Helicopter Airline Transport Written Test Book, 2022 Edition, by Michael J. Culhane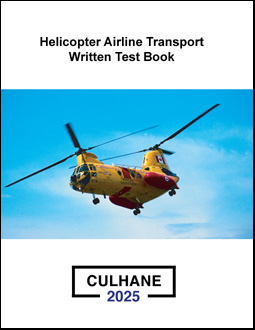 This helpful test preparation manual is a testing supplement to Helicopter Airline Transport Ground School Course, and is perfect for self studying for the ATPL-H writtens (HARON and HAMRA) and FAA to TC ATPL-H conversion exam: FAAAH. Includes 6 realistic sample exams: 2 HARON, 2 HAMRA and 2 FAAAH. All chart excerpts, weather supplements, performance charts and tables etc. are included so no outside materials are needed to write the exams. Writing and scoring these exams followed by referencing back to the ground school course and re-learning any weak subject areas will greatly enhance scoring potential on Transport Canada writtens.
170 pages, perfect bound. ISBN 978-1-895801-52-1.
Retail price: $249.95 CDN
Click here to order!