---
Private Pilot and Recreational Pilot Written Test Book, 2023 Bilingual Edition, by Michael J. Culhane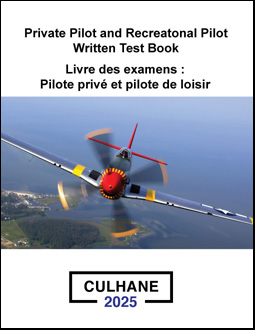 This outstanding test preparation manual consists of 12 sets of realistic sample examinations (1,200 questions in total) for the Transport Canada Private Pilot (PPAER) and Recreational Pilot (RPPAE) written exams for aeroplanes. Designed as a supplement to Private Pilot and Recreational Pilot Ground School Course, this text will help you to score even higher on the actual written by enhancing your test writing skills. All sample exams in this test book realistically simulate the latest Transport Canada writtens and are sectionalized into Air Law, Aeronautical General Knowledge, Navigation and Meteorology. The difficulty level for each exam is in fact slightly higher than that of the Transport Canada exams, to insure even greater exam readiness will be achieved by completing these tests.
All required tables, performance charts, weather and map excerpts (in colour) are included, so no external references are required to write these exams - everything needed for each test is in one source. All answers to the exams in this test book are matched by cross referenced subject code to the corresponding subject in Private Pilot and Recreational Pilot Ground School Course. This matching format between our manuals will allow you to efficiently identify, source and re-learn any weak subject areas. By applying this method, you will be assured of a strong level of exam writing proficiency which will provide satisfying results when you sit the Transport Canada test.
402 pages, perfect bound. Bilingual English-French format. ISBN 978-1-895801-35-4.
Retail price: $124.95 CDN
Click here to order!