---
Instructor Rating Ground School Course, 2023 Edition, by Michael J. Culhane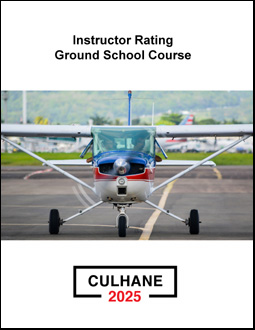 This course has everything required to prepare for the Transport Canada flight instructor - aeroplane writtens: AIRAF (Class 4 instructor) and AIRAT (Class 2 and 1 instructor) written examinations. The following subjects are covered:
Air Law, CARs, Administration
General Aeronautical Knowledge
Instrument Flying
Instructional Theory
Air Exercise Syllabus
Flight Test Standards
This course includes cross referencing to all Transport Canada subject codes, along with a detailed index. Also includes useful information on lesson plan preparation.
This edition is completely updated for the latest Instructor subjects including the revised flight test standards that recently came into effect.
[To maximize exam performance it is recommended that users of this course also obtain as a supplemental text our Instructor Rating Written Test Book, which includes six supplemental instructor rating exams that are cross referenced to the ground school course.]
300 pages, perfect bound. ISBN 978-1-895801-41-5.
Retail price: $149.95 CDN
Click here to order!