---
Instructor Rating Written Test Book, 2023 Edition, by Michael J. Culhane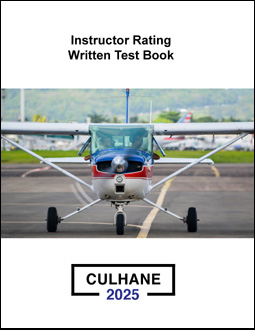 This superb test preparation manual is a supplement to Instructor Rating Ground School Course, and includes six realistic flight instructor (aeroplane) sample exams: 3 AIRAF (Class 4 instructor) and 3 AIRAT (Class 2, 1 instructor). Altogether, there are 720 questions incorporated into this text! All exam answers are cross referenced by subject code to the ground school course. Completing these exams will give a realistic self assessment of your readiness for the Transport Canada exams and will enable you to identify any subjects requiring further study. Updated for new flight test standards that recently came into effect.
226 pages, perfect bound. ISBN 978-1-895801-42-2.
Retail price: $124.95 CDN
Click here to order online!