---
Culhane AME Personal Logbook - Hardcover Version Now Available!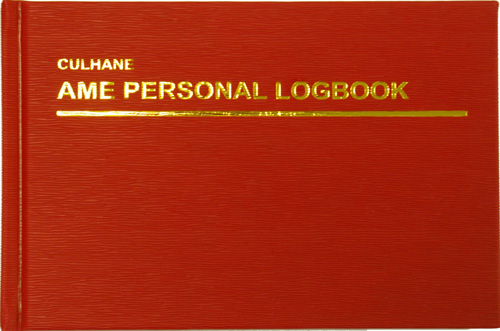 We are very pleased to announce our latest Culhane aviation training product is now available: a Canadian AME personal logbook in hardcover format that fully meets CARs requirements. Those wishing to qualify for a Canadian Aircraft Maintenance Engineer licence must successfully complete approved maintenance tasks appropriate to the rating sought in accordance with Part V of the CARs. This AME personal logbook is logically organized based on CARs requirements with separate sections for M1/M2, Avionics (E), Structures (S) and Balloons (B) ratings, along with appropriate columns for completion dates and certifications with additional sections for personal data, education, training and employment history. This logbook also contains a useful list of abbreviations. Those using this logbook will find it offers an effective means to keep a comprehensive and accurate record of AME experience and training based on CARs standards.
This AME personal logbook is durable with a 4 mm textured imitation leather hardcover and Smyth-sewn binding. Also includes a bookmark ribbon. 128 pages, measures 5.75" X 8.75". Best of all, the suggested retail for our hardcover AME personal logbook is only $29.95 CDN!
Site Map | About Michael Culhane | Culhane Titles | Online Exams | Online Ground School | FAQ | Exam Prep Seminars | Updates | Exam Writing Tips | Culhane Authorized Dealers | Employment Opportunities | Aviation Links | Download Catalogue | E-mail Us
---