---
Ground School Kits
Private Pilot Ground School Kit No. 2: Basic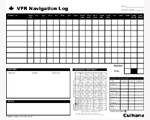 This ground school kit combination includes the following items:

The Sky's The Limit: Canadian Pilot's Manual of Aeronautics 2022 Ed.
The Sky's The Limit: Workbook for Canadian Private Pilots 2022 Ed.
Culhane Standard Pilot Logbook
Douglas Protractor by SAGA
ASA Paper E6B Flight Computer
Pilot Training Record
VFR Navigation Logs, Pad of 50
Cost: $172.49
Our Basic Private Pilot Ground School kit provides our Culhane Sky's The Limit training texts (textbook and private workbook supplement) along with our Culhane standard pilot logbook, ASA paper E6B flight computer, protractor and VFR navigation logs (pad of 50) and provides everything needed for purposes of ground school/self study for written examination and flight training materials for the Transport Canada Private Pilot - Aeroplane licence. Purchasing this combination results in a retail savings of $19.16 (as compared to purchasing these items separately).
---