Douglas Protractor/Square Plotter


A Douglas Protractor/Square Plotter is perfect for measuring tracks from standard VNC/WAC charts. The benefit to using this kind of protractor for measuring tracks is that once the user aligns the "N" on the protractor with North, and by placing the grommit (centre hole) over the midpoint of track, user error is vastly reduced because the actual track is simply read off the protractor. Other types of protractors are inferior, in our view, because they are trickier and cumbersome to use correctly and are more likely to lead to user errors associated with properly orienting the protractor. This type of protractor is therefore the best available design and the only model that we carry.
Retail Price: $14.95 CDN
ASA Ultimate Rotating Plotter


ASA's Ultimate Rotating Plotter serves both as a chart rule and protractor so that you can quickly measure distance and determine true track. 13 1/4" long size permits easy measuring of longer track segments.
Retail Price: $29.95 CDN
Jeppesen IFR Plotter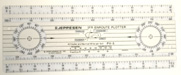 This is a well designed IFR flight plotter for use with standard Jepp IFR enroute and terminal charts.
Retail Price: $19.95 CDN